Traditional Mongolian Yurts
---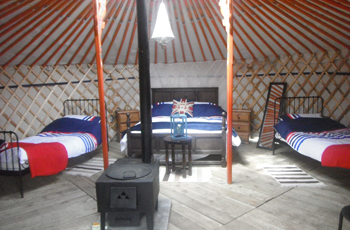 A Yurt is a portable, round tent covered and insulated with skins or felt and traditionally used as a dwelling by several distinct nomadic groups in the Steppes and mountains of Central Asia.
Yurts take between 30 minutes and 3 hours to set up or take down, and are generally used by between five and 15 people.
Nomadic farming with yurts as housing has been the primary life style in Central Asia, particularly Mongolia, for thousands of years.
Our Authentic Luxurious Mongolian Yurts were bought over from Mongolia several years ago and have been regularly upgraded to cope with the British weather.
They are raised on their own decking area and each yurt comes complete with private seating area, barbecue and fire pit, but there is also a communal fire pit if you want to hang around together with friends.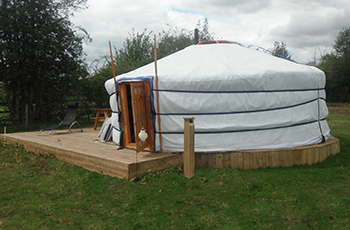 The Traditional Yurts are the height of old style luxury camping. There is a double bed and two single beds in each yurt, and 2 airbeds are also available if needed to allow 6 people to sleep in each yurt.
Each has a log burner to keep you toasty and a gas camping stove to boil a kettle.
All bedding, cutlery, crockery, cooking utensils and towels are also provided. Just bring food, drink, torches and matches everything else is here!
The yurts have their own cold water supply and there are fully equipped toilets and shower facilities a short walk away.
Just sit back, snuggle in and enjoy a lovely relaxing stay in an idyllic setting.
---